Today, many small- to medium-sized businesses (SMBs) are embracing technology for their daily operations, with computers becoming the most important equipment they use to run their business. Keeping them in tip-top condition will ensure optimum performance for a long time. This is why you should thoroughly clean them regularly.
Why is it important to clean your computers?
Many SMB owners overlook the fact that a dirty computer can have a negative impact on your company's operations. Here are reasons why you should clean your computers regularly:
Dust builds up inside your computers and clogs the fan. This causes overheating.
Overheating computers perform more slowly, leading to productivity loss.
Frequent cleaning extends the life span of your computers.
How to clean your computer the right way
Now that you know the importance of keeping your company's computers clean, here's how to do it right.
#1 Prepare your cleaning supplies
Before you start, make sure you have the following:
Water
Isopropyl alcohol
Cleaning wipes for computer screens
Microfiber cloth
Compressed air
Cotton swabs
Screwdriver
Paintbrush
Toothpicks
#2 Turn everything off
Once you've gathered all your cleaning supplies, turn off and unplug your computers. This will eliminate the risk of electric shock while cleaning.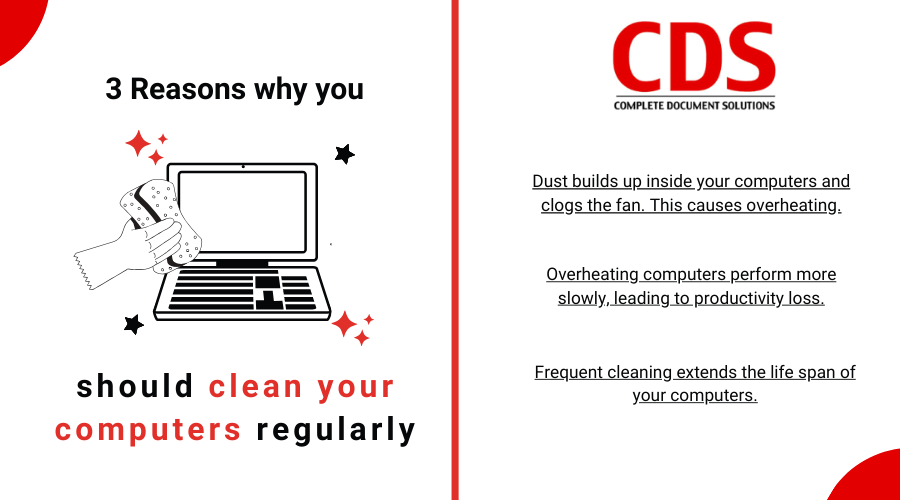 The computer tower
To clean the computer tower, use a screwdriver to remove the casing or side panels. Once you have access to the internal components, use a short blast of compressed air to loosen any accumulated dust. Next, use a portable vacuum to clean up all the dust. Make sure your vacuum has a plastic tip to prevent static electricity from damaging the computer's internal components.
The monitor
Cleaning wipes for computer monitors are readily available in hardware stores or computer supply shops. Simply wipe the surface of the monitor with one to remove smudges or spots. If you don't have cleaning wipes, you can also use plain water or isopropyl alcohol. Moisten a piece of microfiber cloth with a tiny amount of water or alcohol. Use the slightly damp cloth to wipe down the monitor. Be careful when using this method: never apply any liquid directly onto the monitor to prevent droplets from seeping into crevices.
The keyboard
The keyboard is probably one of the dirtiest things you work with right now. Dust, dirt, grime, food scraps, and other particles get stuck and accumulate in the spaces between the keys. Not only is this unsanitary, but the accumulated gunk can cause the keyboard to malfunction.
One quick way to remove stuck keyboard debris is to flip it upside down and give it a gentle tap. This method will not completely remove all the dirt, which is why the next step is to use a paintbrush to sweep off the remaining scraps. You can also use compressed air to remove stuck particles.
To keep your keyboard germ-free, pour a small amount of isopropyl alcohol onto a microfiber cloth, and wipe the entire surface of your keyboard with it.
The mouse
The first step in cleaning your mouse is to remove grime and dirt from the crevices with a toothpick. Do not use a toothpick to clean the optical sensor. To clean the outside of the mouse, use a microfiber cloth with a little water or alcohol (wet wipes can be used as well) and start wiping the top and bottom of the mouse. Next, use a cotton swab to clean the optical sensor. Don't use too much force on the swab, as this can damage the sensor.
Once you're done cleaning your computer and all its peripherals, make sure everything is completely dry before plugging them back in.
Cleaning your computers should be done at least once every six months for optimum results. This is where a managed IT services provider (MSP) like Complete Document Solutions comes in. Our IT experts will ensure that your company's computers are always well-maintained and running at peak performance. If you want to learn more about what an MSP can do for your business, download our free eBook today.
Don't have an IT roadmap?
Outsourcing the day-to-day management of your office technology will lead to more productive employees and reduced costs. Find out more by scheduling a call with us or getting a free quote down below.