Voice over Internet Protocol (VoIP) has become a reliable communication platform for many small- and medium-sized businesses (SMBs) because of the wide array of benefits it offers. However, just like any other type of modern technology, VoIP systems are not immune from being exploited by cybercriminals looking to steal users' private data for financial gain.
Eavesdropping, extortion, and fraud are just some of the things hackers can do once your VoIP system has been compromised. Watch out for these signs that indicate your VoIP network is being hacked.
1. Being redirected to other sites
When you automatically get redirected to unknown sites while performing an internet search, it's a sign that your VoIP phone system is being hacked. Another indication of an attack is the addition of browser extensions without your permission.
2. Inconsistencies in your call history
Reviewing your VoIP phone's call history will provide you with clues that your system is being hacked. Watch out for calls originating from unknown numbers and locations. You should also check if the numbers listed in your call history or phone bill match the numbers in your company's contact list. If you notice a consistent pattern of calls to or from unknown sources, then it's time to ask your VoIP provider to investigate.
3. Fake antivirus messages
While using a VoIP phone OR system, you may come across virus infection warnings that look legitimate. Most of these are scareware, malicious programs that trick you into downloading malware through pop-up ads. These ads claim that your computer has been infected by a virus and that you need to download antivirus software immediately. When you see these types of messages appear and you're not sure what to do, disconnect your VoIP system from the internet and inform your provider so they can check if your network has been infected with malware.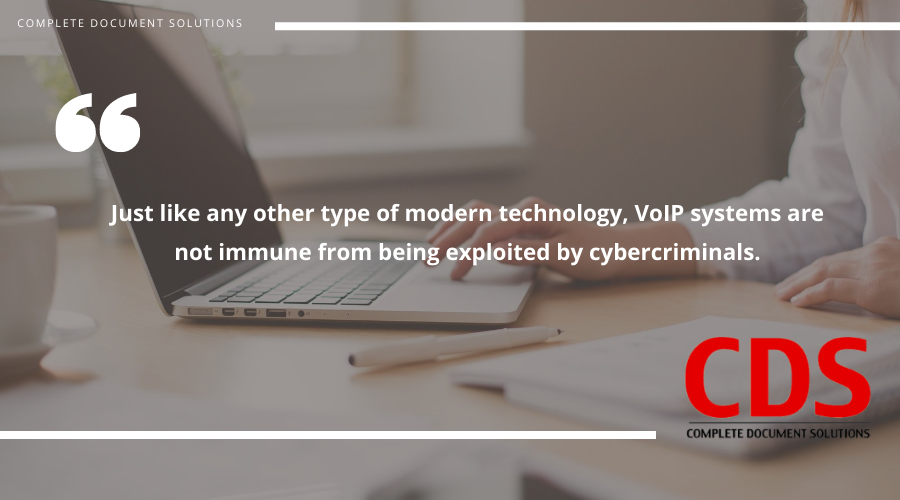 4. Automatic activation of microphones and webcams
VoIP stands out from regular phones because it can be used to hold video calls and meetings. However, hackers can exploit the webcams and microphones you use for VoIP calls to spy on your company in an attempt to steal important data. If your mics and webcams get activated for no apparent reason, you should immediately alert your provider.
5. High phone bills
Hackers who break into your VoIP system can abuse it by making unauthorized phone calls to international and premium-rate numbers resulting in a sudden rise in your phone bills. If this happens, you should bring it to the attention of your VoIP provider or managed IT services provider (MSP) as soon as possible. This is to avoid being billed thousands of dollars worth of phone calls that you did not make.
Protecting your VoIP system from hackers
To prevent cybercriminals from hacking into your VoIP system and exploiting it, here are some measures you can take.
1. Enable encryption and authentication
VoIP phones come with the latest authentication and encryption technology such as Wireless Protected Access, Wired Equivalent Privacy, and IEEE 802.11i. Enable these features to keep hackers off your network and ensure call privacy.
2. Use a VoIP firewall
Similar to firewalls found on computers, a VoIP firewall filters network traffic and blocks potential threats from unauthorized access.
3. Use the latest antivirus software
Just like a firewall, antivirus software helps shield your network from incoming threats. It also protects your network from malware and other cyberthreats.
4. Train your employees
One way to keep your VoIP system safe from hackers is to teach your employees how to spot the telltale signs of a breach. Hold regular training exercises to ensure they know how to respond to potential threats.
If you want to ensure your VoIP system is safe from hackers, you need to partner with an MSP like Complete Document Solutions. Our proactive cybersecurity services will safeguard your VoIP network from malicious elements looking to steal your data or disrupt your operations. Our free eBook about the three essential types of cybersecurity solutions your business must have features the current security trends vital for SMBs. Download it now.
Don't have an IT roadmap?
Outsourcing the day-to-day management of your office technology will lead to more productive employees and reduced costs. Find out more by scheduling a call with us or getting a free quote down below.