There was a time when Microsoft Office was the office suite preferred by most businesses. Rivals such as Lotus SmartSuite and WordPerfect Office faded into obscurity and Microsoft Office seemed set to rule the business world. Then in 2006, Google released Apps Suite, which contained Docs, Spreadsheets, and other business services that would later be rebranded as G Suite.
G Suite wasn't an overnight success, but it eventually became popular with many business owners. It now has more than five million paying subscribers. Microsoft, on the other hand, changed Office from a licensed-based software to a subscription-based one called Office 365 and is said to have around 258 million Office 365 users and 75 million Teams users.
Office 365 vs. G Suite: Which is better?
Office 365 and G Suite are similar in a lot of ways. Both are subscription-based services that charge businesses depending on the client's needs. G Suite is primarily a web-based service but can also work offline. Office 365, on the other hand, is based on software installed in desktops or laptops and also comes with web-based versions of its applications.
Since G Suite is web-based, it's designed to work with most browsers and operating systems, and even has apps for Android and iOS devices. Microsoft's Office 365 web-based apps can also work across different browsers and its Office client has apps for Windows, macOS, Android, and iOS.
Both Office 365 and G Suite feature the same applications such as spreadsheets, word processing, email, presentation, contacts, and calendar. They even come with their own messaging, video conferencing, and note-taking software. Both suites offer a wide range of tools and services, making it difficult for users to choose which of the two is better. To help you decide, consider these factors when choosing between G Suite and Office 365.
Pricing
G Suite is available in three versions: Basic, Business, and Enterprise. The Basic version, priced at $6 per user monthly, includes all the suite applications and 30 GB of storage. The Business version, meanwhile, costs $12 per user monthly and comes with all the features found in Basic plus additional administrative tools, unlimited storage, a low-code application environment, and enterprise search capabilities. Lastly, the Enterprise version is priced at $25 per user per month and comes with everything included in the Business version plus additional administrative controls.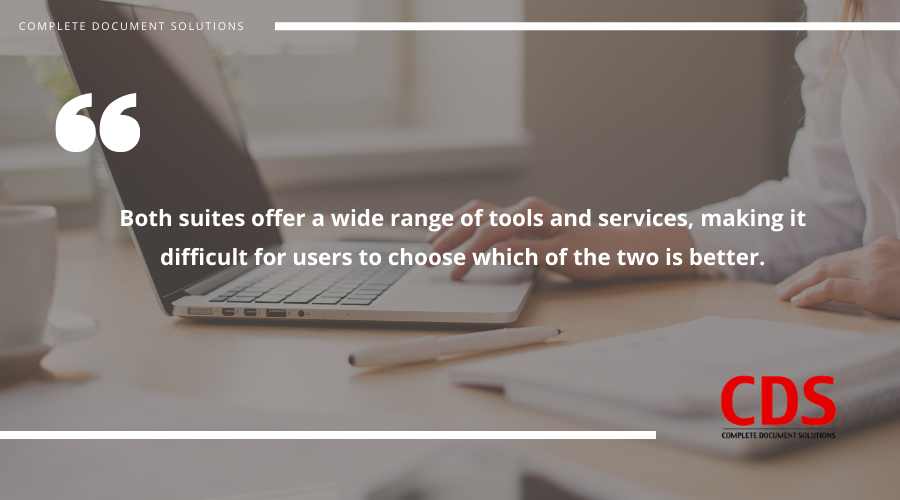 On the other hand, Office 365's subscription and pricing is a bit more complicated. Their most basic plan, the Office 365 Business Essentials charges $5 per user per month and has a limit of 300 users. It lets you create spreadsheets, presentations, and documents, and offers 1 TB of storage space per user. Business Essentials also comes with Microsoft Teams and Skype. Office 365 Business is almost similar to Business Essentials minus Microsoft Teams and Skype, and it goes for $8.25 per user per month. You can check the full details of the various Microsoft Office 365 basic plans and enterprise plans and see which is best for your business.
Apps
When it comes to the individual apps of each suite, it all comes down to your specific needs. Microsoft Office apps such as Word, Excel, and PowerPoint come with pre-built templates that make creating reports, presentations, or resumés fast and simple. G Suite apps like Google Docs, Sheets, and Slides may lack such templates, but they have much better collaboration capabilities.
In terms of email management, G Suite's Gmail offers simplicity, usability, and a cleaner interface. It also allows you to organize your messages with a labeling feature. Outlook, on the other hand, comes with nifty features you won't find in Gmail. One example is the Focused Inbox feature that lets you read and respond to emails according to their importance. Outlook's Clean Up feature simplifies lengthy email threads, making them easier to follow.
Both suites offer a wide range of tools and services that are beneficial to many different types of businesses. Choosing between the two depends on your business's demands and budget.
If you decide to use use either suite for your business, you're going to need the help of a trusted managed IT services provider (MSP) like Complete Document Solutions to set up and manage it for you. Our IT experts will configure your devices to ensure you get the most out of Microsoft Office 365 or G Suite. To find out we can do for your business, download our free eBook today.
Don't have an IT roadmap?
Outsourcing the day-to-day management of your office technology will lead to more productive employees and reduced costs. Find out more by scheduling a call with us or getting a free quote down below.