These days, many small- and medium-sized businesses (SMBs) use technology to improve processes such as tracking inventory, managing payroll, and more. This helps employees be more efficient while also reducing clutter from using outdated paper records. However, this opens SMBs up to a new problem: cybercriminals.
According to the 2019 Verizon Data Breach Investigations Report, 43% of cyberattacks target SMBs. A successful data breach can cost a small business around $200,000 and causes 60% of affected businesses to close within six months of an attack.
The threat of hackers stealing your business data is very real, so you should prioritize enhancing your company's cybersecurity measures. Here are the types of data that hackers want to steal:
Personal information
The personal information of your employees and clients are on the top of a hacker's hit list — in fact, around 17 million Americans had their personal data stolen in 2017 alone. Personal data includes financial information, Social Security numbers, addresses, and birth dates. Social Security numbers are the prime target of many cybercriminals because they can use these to open credit accounts, commit tax fraud, and make purchases.
Even if your organization does not collect your customers' Social Security numbers, it has the Social Security numbers of your employees. This is why your company should use the latest cybersecurity solutions to keep your system secure.
Product information
Electronics design engineer and entrepreneur John Teel says that seasoned product developers take at least three months to come up with an initial design for a product they want to sell. It then takes another six to nine months to create a working prototype, and another six months to have that product ready for mass production.
Now imagine if a hacker got their hands on your prototype data. They can sell it to your competitors and allow them to develop that product before you do.
Corporate account data
Aside from financial data, hackers are also looking for ways to steal your employees' corporate account data. They can use this information to impersonate someone from your organization to solicit personal information from your customers, or they can just outright sabotage and disrupt your operations.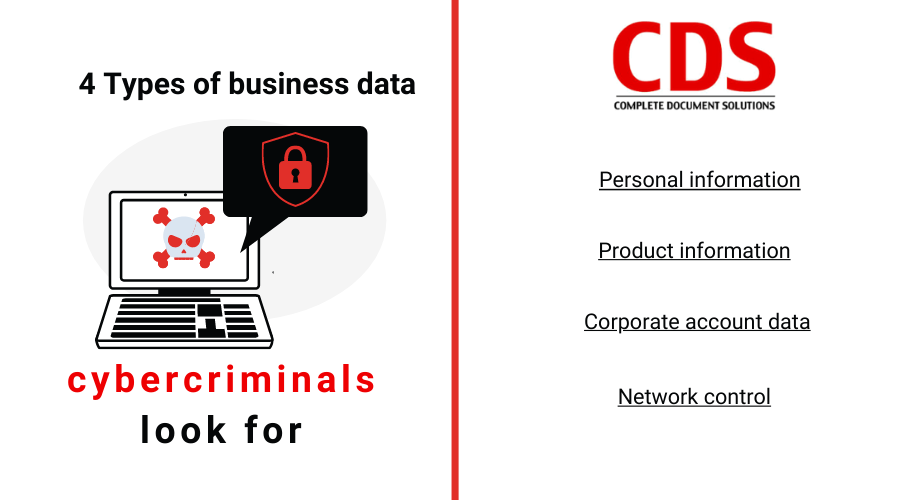 Network control
Sometimes, cybercriminals are less interested in the data you have and more concerned about controlling your network. One way hackers can gain control of your network is through a ransomware attack. Ransomware is malicious software designed to lock you out of your computers, preventing you from accessing your data unless you pay a ransom. Cybercriminals often deliver ransomware through phishing attacks and compromised online ads. This is why it's important for your employees to identify phishing emails and harmful websites, especially while working.
Aside from stealing information, hackers may want to control your network in order to store their own data and applications in it. This way, they won't have to pay for their own servers and data centers.
You may not notice this activity at first, but as hackers continue to connect to your network and use up your resources, this will lead to additional and unnecessary costs for your business. Some signs of this type of cyberattack include quickly running out of storage space, unknown or unauthorized devices connecting to your network, and network slowdown.
Enhance your company's cybersecurity measures with the help of a managed IT services provider like Complete Document Solutions. Our cybersecurity services will safeguard your network from cyberattacks to keep your business data safe and prevent disruptions in your operations. Download our free eBook today if you want to learn more about our cybersecurity services.
Don't have an IT roadmap?
Outsourcing the day-to-day management of your office technology will lead to more productive employees and reduced costs. Find out more by scheduling a call with us or getting a free quote down below.