In this digital age, IT has become a major part of business operations. Unfortunately, a lot of small to medium-sized businesses (SMBs) have difficulty aligning their technology with their business strategy. This is where a strong IT roadmap comes handy.
What is an IT roadmap?
An IT roadmap is a long-term strategy aimed at improving the gap between your organization's strategic needs and IT infrastructure by analyzing not only what your company needs today, but what it needs for the future as well.
Why do you need an IT roadmap?
Large corporations often hire a chief information officer (CIO) to manage their IT roadmap to facilitate business growth and productivity. While SMB owners also recognize the need for an efficient IT roadmap, they lack the manpower, resources, and skills to effectively communicate to their employees the value of using the latest technology. That's why they usually end up making cost-based decisions instead of value-based ones when it comes to what technology is needed for their business.
What are the benefits of an IT roadmap?
Aside from instructions on how to upgrade your company's IT infrastructure to meet your business goals and objectives, an IT roadmap also provides these additional benefits:
It provides a clear picture of your company's IT capabilities and how they align with your current goals.
It oversees the implementation of the correct technology to increase employee productivity and drive your company forward.
It boosts your company's cybersecurity initiatives.
It helps locate and remove technology you don't need and address current IT problems.
It fixes any weaknesses in your current infrastructure to prevent system failures in the future.
What are the vital aspects of an IT roadmap?
The ideal IT roadmap should present a clear line that connects your current technology with the goals of your company. It should come with these important aspects: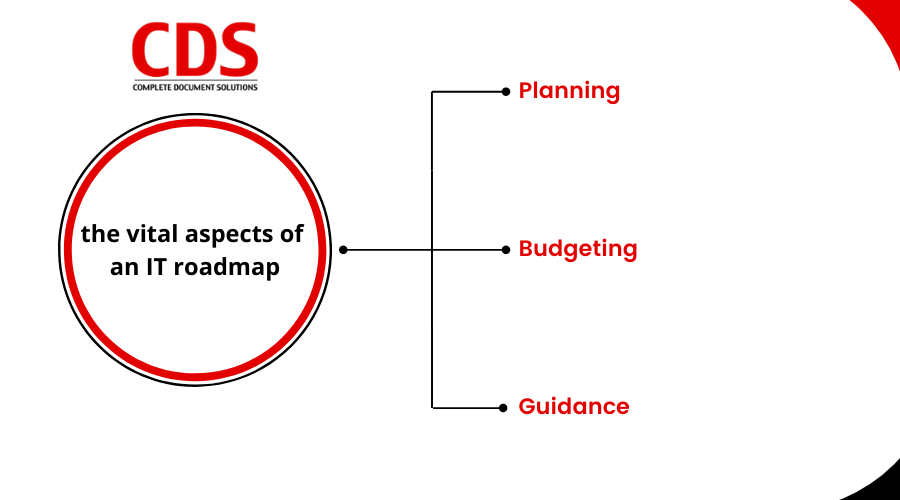 #1 Planning
Running a business without any sort of plan is like driving a car in an unknown city without the aid of a map or GPS. If you want your business to succeed, you need to have a well-planned strategy that includes the best technology for your business, market research, business targets and projections, costs, and more. You simply cannot rely on winging it if you want your business to strive and succeed.
#2 Budgeting
Technology is not cheap, and if you're blindly purchasing new hardware and software solutions that do not align with your business goals, then you're pretty much wasting your budget. Remember, the technology you purchase should always meet the current needs of your business. Just because there's a new technology that people are talking about doesn't necessarily mean it's something that can help push your business forward.
#3 Guidance
Not all SMBs keep up with the latest technological trends and they tend to be overwhelmed with tech jargon like specs, data, and part numbers. How would you know what type of operating system (OS) is ideal for your business? Do you need to upgrade your servers or buy new ones? Should you replace your company's analog phone system with a Voice over Internet Protocol (VoIP) system? These are situations where the advice of an IT expert is invaluable. A well-planned IT roadmap will help you save time and money that would otherwise be wasted on equipment and software your company does not need.
The first step to developing an effective IT roadmap is to understand your company's goals and mission. These goals need to be communicated, applied, and understood by all your employees. Here at Complete Document Solutions, we'll help you build an IT roadmap that will set your business up for success. Give us a call today to learn more.
Don't have an IT roadmap?
Outsourcing the day-to-day management of your office technology will lead to more productive employees and reduced costs. Find out more by scheduling a call with us or getting a free quote down below.